Bentornati alla rubrica mensile per gli amanti della lattura in inglese!
Stavolta ho cercato davvero di contenermi perchè...avete visto di recente la mia wishlist? Come di consueto ho scelto tanto fantasy ma anche qualche contemporary e un paio di romanzi un po' più impegnati.
Autore:Ann Claycomb
Editore: William Morrow
Genere: fantasy
Trama
A modern-day expansion of Hans Christian Andersen's The Little Mermaid, this unforgettable debut novel weaves a spellbinding tale of magic and the power of love as a descendent of the original mermaid fights the terrible price of saving herself from a curse that has affected generations of women in her family.

Kathleen has always been dramatic. She suffers from the bizarre malady of experiencing stabbing pain in her feet. On her sixteenth birthday, she woke screaming from the sensation that her tongue had been cut out. No doctor can find a medical explanation for her pain, and even the most powerful drugs have proven useless. Only the touch of seawater can ease her pain, and just temporarily at that.

Now Kathleen is a twenty-five-year-old opera student in Boston and shows immense promise as a soprano. Her girlfriend Harry, a mezzo in the same program, worries endlessly about Kathleen's phantom pain and obsession with the sea. Kathleen's mother and grandmother both committed suicide as young women, and Harry worries they suffered from the same symptoms. When Kathleen suffers yet another dangerous breakdown, Harry convinces Kathleen to visit her hometown in Ireland to learn more about her family history.

In Ireland, they discover that the mystery—and the tragedy—of Kathleen's family history is far older and stranger than they could have imagined. Kathleen's fate seems sealed, and the only way out is a terrible choice between a mermaid's two sirens—the sea, and her lover. But both choices mean death…

Haunting and lyrical, The Mermaid's Daughter asks—how far we will go for those we love? And can the transformative power of music overcome a magic that has prevailed for generations?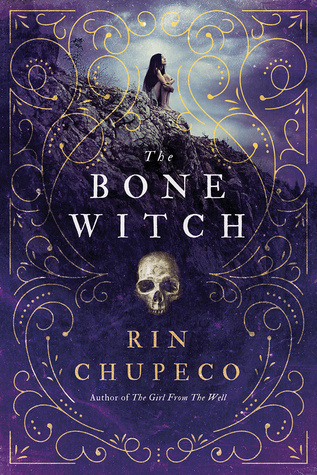 Autore: Rin Chupeco
Editore: Sourcebooks Fire
Serie: The Bone Witch #1
Genere: fantasy, young adult
Trama
Let me be clear: I never intended to raise my brother from his grave, though he may claim otherwise. If there's anything I've learned from him in the years since, it's that the dead hide truths as well as the living.

When Tea accidentally resurrects her brother from the dead, she learns she is different from the other witches in her family. Her gift for necromancy means that she's a bone witch, a title that makes her feared and ostracized by her community. But Tea finds solace and guidance with an older, wiser bone witch, who takes Tea and her brother to another land for training.

In her new home, Tea puts all her energy into becoming an asha-one who can wield elemental magic. But dark forces are approaching quickly, and in the face of danger, Tea will have to overcome her obstacles...and make a powerful choice.
Autore: Danielle Paige
Editore: Harper Collins
Serie: Dorothy Must Die #4
Genere: fantasy, retelling
Trama
In this high-octane fourth book in the New York Times bestselling Dorothy Must Die series, Amy Gumm must do everything in her power to save Kansas and make Oz a free land once more.

At the end of Yellow Brick War, Amy had finally defeated Dorothy. Just when she and the rest of the surviving members of the Revolutionary Order of the Wicked thought it was safe to start rebuilding the damaged land of Oz, they realized they've been betrayed—by one of their own. And Dorothy might not have been so easily defeated after all.

In the fourth installment of the New York Times bestselling Dorothy Must Die series, the magical Road of Yellow Brick has come to the rescue, and whisked Amy away—but to where? Does the Road itself know where she needs to go to find the help that she needs?

Welcome to the other side of the rainbow. Here there's danger around every corner, and magic shoes won't be able to save you.
Autore: Danielle Paige
Editore: Harper Collins
Serie: Dorothy Must Die #0.9
Genere: fantasy, retelling


Trama
This digital original novella is the ninth and final installment in the series' prequel arc. It reveals the mysterious backstory of Ozma—and how she went from fairy princess to the rightful ruler of Oz.

Young Mombi was never the best witch in Oz. She wasn't the most talented, or the most powerful. But when the Wizard knocks on her door holding a baby girl who needs protection, Mombi agrees to take the job. She casts one powerful, surprising spell—hiding the baby where no one would find her. Years later, a boy named Pete goes on a journey to the Emerald City, where he learns the truth about his true identity…and his role in Oz's destiny.
Arrivano questo mese anche due libri che fanno parte della saga dedicata al mondo di Oz. Ho letto il primo libro qualche tempo fa e l'avevo trovato molto piacevole ed è un peccato che finora questa serie non sia stata portata anche in Italia.
THE HIDDEN MEMORY OF OBJECTS
Autore:
Danielle Mages Amato
Editore:
Balzer+Bray
Genere:
contemporary, young adult
Link Amazon
Trama
Megan Brown's brother, Tyler, is dead, but the cops are killing him all over again. They say he died of a drug overdose, potentially suicide—something Megan cannot accept. Determined to figure out what happened in the months before Tyler's death, Megan turns to the things he left behind. After all, she understands the stories objects can tell—at fifteen, she is a gifted collage artist with a flair for creating found-object pieces. However, she now realizes that her artistic talent has developed into something more: she can see memories attached to some of Tyler's belongings—and those memories reveal a brother she never knew.

Enlisting the help of an artifact detective who shares her ability and specializes in murderabilia—objects tainted by violence or the deaths of their owners—Megan finds herself drawn into a world of painful personal and national memories. Along with a trusted classmate and her brother's charming friend, she chases down the troubling truth about Tyler across Washington, DC, while reclaiming her own stifled identity with a vengeance.
100 HOURS
Autore:
Rachel Vincent
Editore:
Katherine Tegen Books
Serie:
100 Hours
#1
Genere:
thriller, young adult
Link Amazon
Trama
A decadent spring break getaway on an exotic beach becomes a terrifying survival story when six Miami teens are kidnapped and ransomed.

Maddie is beyond done with her cousin Genesis's entitled and shallow entourage. Genesis is so over Miami's predictable social scene with its velvet ropes, petty power plays, and backstabbing boyfriends.

While Maddie craves family time for spring break, Genesis seeks novelty—like a last-minute getaway to an untouched beach in Colombia. And when Genesis wants something, it happens.

But paradise has its price. Dragged from their tents under the cover of dark, Genesis, Maddie, and their friends are kidnapped and held for ransom deep inside the jungle—with no diva left behind. It all feels so random to everyone except Genesis. She knows they were targeted for a reason. And that reason is her.

Now, as the hours count down, only one thing's for certain: If the Miami hostages can't set aside their personal problems, no one will make it out alive.
Autore: Amy Hatvani
Editore: Washington Square Press
Genere: fiction
Trama
Amber Bryant and Tyler Hicks have been best friends since they were teenagers—trusting and depending on each other through some of the darkest periods of their young lives. And while Amber has always felt that their relationship is strictly platonic, Tyler has long harbored the secret desire that they might one day become more than friends.
Returning home for the summer after her college graduation, Amber begins spending more time with Tyler than she has in years. Despite the fact that Amber is engaged to her college sweetheart, a flirtation begins to grow between them. One night, fueled by alcohol and concerns about whether she's getting married too young, Amber kisses Tyler.

What happens next will change them forever.

In alternating points of view, It Happens All the Time examines the complexity of sexual dynamics between men and women and offers an incisive exploration of gender roles, expectations, and the ever-timely issue of consent.
Autore: Marie Bostwick
Editore: Kensington Publishing Corporation
Genere: fiction
Trama
Every child prodigy grows up eventually. For the Promise sisters, escaping their mother's narcissism and the notoriety that came with her bestselling book hasn't been easy. Minerva Promise claimed that her three "test tube" daughters--gifted pianist Joanie, artistic Meg, and storyteller Avery--were engineered and molded to be geniuses. In adulthood, their modest lives fall far short of her grand ambitions. But now, twenty years after the book's release, she hopes to redeem herself by taking part in a new documentary.

Meg, who hasn't picked up a paintbrush in years, adamantly refuses to participate, until a car accident leaves her with crushing medical bills. While she recuperates in Seattle, the three sisters reluctantly meet with filmmaker Hal Seeger, another former prodigy. Like them, he's familiar with the weight of failed potential. But as he digs deeper, he uncovers secrets they've hidden from each other--and a revelation that will challenge their beliefs, even as it spurs them to forge their own extraordinary lives at last.
STRANGE THE DREAMER
Autore:
Laini Taylor
Editore:
Hodder & Stoughton/Little Brown Books
Serie:
Strange the Dreamer
#1
Genere:
fantasy, young adult
Link Amazon
Trama
The dream chooses the dreamer, not the other way around— and Lazlo Strange, war orphan and junior librarian, has always feared that his dream chose poorly. Since he was five years old he's been obsessed with the mythic lost city of Weep, but it would take someone bolder than he to cross half the world in search of it. Then a stunning opportunity presents itself, in the person of a hero called the Godslayer and a band of legendary warriors, and he has to seize his chance to lose his dream forever.

What happened in Weep two hundred years ago to cut it off from the rest of the world? What exactly did the Godslayer slay that went by the name of god? And what is the mysterious problem he now seeks help in solving?

The answers await in Weep, but so do more mysteries—including the blue-skinned goddess who appears in Lazlo's dreams. How did he dream her before he knew she existed? and if all the gods are dead, why does she seem so real?